It doesn't always have to be a 3 days 2 nights stay at a nice hotel by the beach to say you've had a great vacation. Traveling also doesn't have to involve a big suitcase and five carry-ons plus excess baggage for just in case.
Come on. Let me challenge you. Hit the road. Go anywhere – anywhere at all. Bring your camera or don't. Its really all up to you. You can do anything you want as long as your purpose is to have fun and make the most out of your day exploring a different place, or re-exploring a place you've already been to. The challenge is – do it all in 24 hours.
Yes – do it all in One day.
Call me crazy, but sometimes the best travel experiences happen in a single day. Do I recommend it? Sure! Yeah, it may be too packed and tight, but a one-day IT may be just what you need to get those feet craving for more. If you have a busy schedule, a day off somewhere out there may be worth the while. Trust me. I know.
And so to help you boost your appetite with this challenge and as part of Pinoy Travel Blogger's (PTB) March Blog Carnival' theme Best One Day Itinerary You've Had So Far, travel bloggers share with us their best day trips in and around the Philippines.
Luzon
Blogger: Gael
Where she went within 24 hours: Ilocos Norte
What She Did: A little Nature tripping and a little more extras in Ilocos Norte! As she saw the windmills, some great rock formations, caves, beaches, you can follow her trail through her blog entry and lets see if you don't have fun.
Blog: The Pinay Solo Backpacker
Post:Ilocos Norte: Travel Itinerary
photo by gael
Blogger: Aleah
Where She went within 24 hours: Puerto Galera (Oriental Mindoro)
What She Did: Aleah suggests 6 things you can do in Puerto Galera – all of them doable in a single day. And hey, I didn't know there's a cave there you can dive into.. that one's cool.
Blog: Solitary Wanderer
Post: Puerto Galera in One Day
Blogger: Estan
Where he went within 24 hours: San Jose, Occidental Mindoro
What he did: What can be done in two days, he did in a single day trip. Estan uncovers what to do in San Jose. Wait, did I just read that you rode a tamaraw? Better read that part again..
Blog: Langyaw
Post: San Jose, Occidental Mindoro in a Day
photo by estan
Blogger: Melo
Where he went within 24 hours: Manila
What he did: Melo points out that it is difficult to pin down the top five destinations in Manila that suits everyone, but if you'ld like to know more about what the general audience would like then his little daytour maybe for you.
Blog: Out of Town Blog
Post: Top Five Attractions in the Historic City of Manila
Blogger: Jenn
Where she went within 24 hours: Nueva Vizcaya – Cagayan – Isabela – Banaue
What she did: Traveled through 7 provinces all the way to the Banaue Rice Terraces for P1500. Try and top that!
Blog: Where My Feet Took Me
Post: PTB Blog Carnival Best One Day Itinerary
Blogger: Mhe-Anne
Where she went within hours: Tagaytay – Batangas – Cavite – Pasay
What she did: In an almost hour by hour account of her travel, Mhe-Anne details her travel as she hosted three couch surfers, in an activity packed IT covering 4 provinces and cities.
Blog: My Comings and Goings
Post: Tagaytay, Batangas, Cavite with Wensha Pasay: Venues for My Best One Day Itinerary!!
Blogger: Ivan
Where he went within 24 hours: University of the Philippines (Quezon City)
What He Did: Traveled to UP – Ivan's school to be with a map in hand. Hey, where did you get a map? And why are your shoes all muddy, Ivan? I thought you were at school? Hmmm.
Blog: Batang Lakwatsero
Post: A Walk Tour in QC
photo by ivan
Blogger: Jerik
Where he went within 24 hours: Quezon City
What he did: As one of his best and most memorable trips in his life, Jerik illustrates his day in Quezon City.. oh and he calls it his laziest too. I wonder..
Blog: Pinoy Boy Journals
Post: Aweeesome five Travels in Quezon City
Visayas
Blogger: Micaela
Where she went within 24 hours: Guimaras
What she did: If you've watched 'Eat, Love, Pray', Micaela considers Guimaras as her Bali stop. Now isn't that something? Oh I haven't watched the movie but I get the point.
Blog: Senorita
Post: Inspirational Morning Trip to Guimaras
Blogger: Doi
Where she went within 24 hours: Argao, Cebu
What she did: Doi wanted to see more of Cebu and not just the usual, and if you're like her, she says you have to go out of your way to check out the surrounding beaches. Did I just see a guy carrying a surfboard in your photo?!! Another one for the surfer dude..
Blog: The Travelling Feet
Post: Exploring the Town of Argao in a Day
Blogger: Chyng
Where she went within 24 hours: Boracay
What she did: Took a morning flight to Boracay, spent a really nice day at the beach and all those other stuff you do in Boracay, slept, then fly the next day home – Who would do that?!!!!!!
Blog: No Spam, No Virus, No Kiddin!
Post: Have a Blast in Boracay in Just one Day
photo by chyng
Blogger: James
Where he went within 24 hours: Boracay
What he did: His blog title "Not Your Ordinary Boracay" speaks for itself. I wouldn't want to spoil you with details. Check out what makes Boracay that way for him". Oh, that last photo was an eye opener dude!
Blog: Journeying James
Post: Not Your Ordinary Boracay
Blogger: Edsel
Where he went within 24 hours: Moalboal, Cebu
What he did: Beach-boy Edsel tells us what we need to know about Moalboal. I think I want to go there to experience that hole in the wall, or rather, holes in walls videoke bar..
Blog: soloflightEd
Post: Moalboal Cebu, A Beach Fix from the Office and School
Blogger: Marky
Where he went within 24 hours: Makati – Iloilo
What he did: Stayed up late in Makati, went home, packed, and did a Visita Iglesia around Iloilo all in one day. Make sure to check out the "brief" photo.
Blog: Nomadic Experiences
Post: 24-Hour Road Party People
Mindanao
Blogger: Claire
Where she went within 24 hours: Davao City
What she did: Her most "sulit" trip in her three years of traveling. Read her hourly account of her trip to Davao visiting churches, parks, temples, museums, etcetera etcetara. Since she detailed three days, you can simply choose one of the three days and try it on your own.
Blog: Lakwatsera de Primera
Post: Davao Itinerary Expenses and Attractions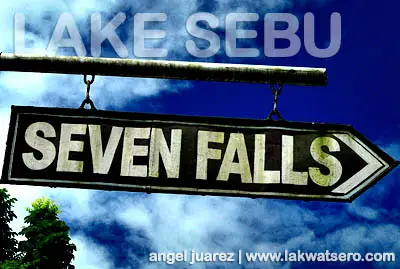 photo by angel
Blogger: Angel
Where He went within 24 hours: GenSan – Lake Sebu, South Cotabato
What He Did: From Gensan, he went to Lake Sebu, and ziplined all the way through South Cotabato's Seven Waterfalls.
Blog: Lakwatsero
Post: Zip Love See Seven Waterfalls in a Day
Convinced?!..